Back to Sponsorship and Advertising Opportunities
Manufacturing Apprentice Training Program
Training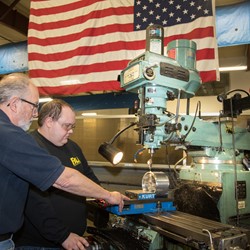 Our apprenticeship program helps Hudson Valley manufacturing employers develop the skilled workforce they need to be globally competitive.
The Council of Industry is pleased to lead the New York State Manufacturers Alliance Intermediary Apprenticeship Program (NYSMIAP) in the Hudson Valley.

If your manufacturing business is interested in a proven program that can help:
Retain best workers
Upskill current employees
Attract quality candidates
The NYSMIAP program is for you.
Manufacturing Apprentice Program
Registered apprentices will receive up to 8,000 hours of on-the-job training. Seasoned journey-level workers will provide this training. Detailed work processes are designed to give the apprentice a holistic understanding of the trade and an advanced tactical skill set.
Related Instruction
Each apprentice must complete 144 hours of outside training each year. This training is generally a combination of online and in-classroom training. The Council of Industry has partnered with Tooling U and our local community colleges to create and support customized training designed to meet the apprenticeship requirements.
Get Involved
Want to learn more about the Apprentice Program?
Contact Johnnieanne Hansen, to discuss the needs of your organization.
Are you a potential apprentice interested in starting a career in manufacturing?
Visit our Hudson Valley Manufacturing Jobs Website to see, and apply for available positions.
Contact
Learn More
Fill out the form below and we will contact you.
Success! Your contact request has been submitted, please allow 24 hrs for a response.