Back to Events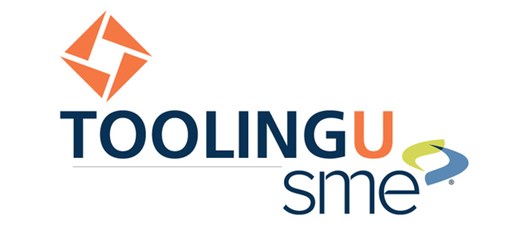 Tooling U-SME Manufacturing Training Webinar
Thursday, June 1, 2023
10:00 AM - 11:15 AM (EDT)
Event Details
Join us for an informative webinar on Tooling U-SME, the industry leader in online manufacturing training. This webinar will provide you with a comprehensive overview of the training programs offered by Tooling U-SME, including manufacturing certificates, micro-credentials, and apprenticeships.
Our presenter, Greg Surtman, Workforce Development Manager from Tooling U-SME will explain how Tooling U-SME's courses can help you improve your manufacturing skills and stay competitive in today's rapidly evolving industrial landscape. You'll learn about the wide range of courses available, from basic foundational knowledge to advanced topics such as automation, robotics, and advanced materials.
This webinar is free and open to members and future members interested in learning more about Tooling U-SME and how our training programs can help you achieve your professional goals.
FLEXIBLE AND CONVENIENT

Machining: Professional Development
Welding: Professional Development
Engineering: Professional Development
Industrial Safety: Professional Development
Leadership Training: Professional Development
Plastics: Professional Development
Quality: Professional Development
Composites: Professional Development
Form Fab Stamp: Professional Development
LEAN: Professional Development
Maintenance: Professional Development
For More Information:
Tyler Winters
Workforce Development Coordinator
Council of Industry
(845)392-8916
ABOUT GREG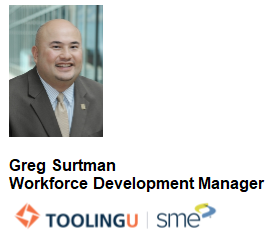 Greg has over 26 years of workforce development experience as a top performer at New Horizons CLC, Cuyahoga Community College, Contract Training Edge LLC, & Tooling U-SME. He holds a Bachelor of Business Administration from the University of Toledo, is a Lean Six Sigma Green Belt, and a Certified DiSC Facilitator and serves on the Board of Directors at the Uniquely Abled Project/Academy. Greg is passionate about helping both individuals and manufacturers succeed by bringing stakeholders together to create local talent ecosystems.
As Workforce Development Manager at Tooling U-SME, Greg is responsible for leading the team that supports Tooling U-SMEs 900+ partner network, including:
Manufacturing Extension Partnerships

Career & Technical High Schools

Community & Technical Colleges

Universities

Manufacturing Associations

Workforce & Economic Development Agencies

Community-Based Organizations

This partner network collaborates to provide learning solutions that address the skills gap in manufacturing by filling the talent pipeline and continuing to develop the incumbent workforce.